Transfer tokens between
via decentralized Bridge

The DAO-controlled Bridge facilitates fast cross-chain transfers in any direction within a single interface.

Transfer tokens
$63m+
Total Value
Transferred
Truly decentralized

The DAO limits the power of developers and prevents centralization as authority over all assets and transfers is held firmly in the side of the DAO.

Multi-network

Operate with assets from numerous blockchains all connected to one Bridge.

Rocket fast

High transaction speed is achieved thanks to the Everscale blockchain. The average block time is 0.2 sec.

Almost free

Token transactions on Everscale are exponentially cheaper than on Ethereum.

Scalable

Infinite Sharding technology allows the throughput of millions of TPS.
Compeletely transparent and secure
Open source
Open source
All operations are performed in an open and transparent manner through EVM and Everscale smart contracts.
Audit
Verified
EVER Bridge has been audited and won Everscale DeFi Architecture & Design and Implementation contests.
DAO determines the direction of Bridge development
BRIDGE token owners can vote on certain operating decisions to make the Bridge better. The voting protocol is a real smart contract that is authorized to make changes to other smart contracts.
Now more than 23 Relayers have special importance in the Bridge DAO structure. Any user with at least 100k BRIDGE tokens is eligible to become a Relayer.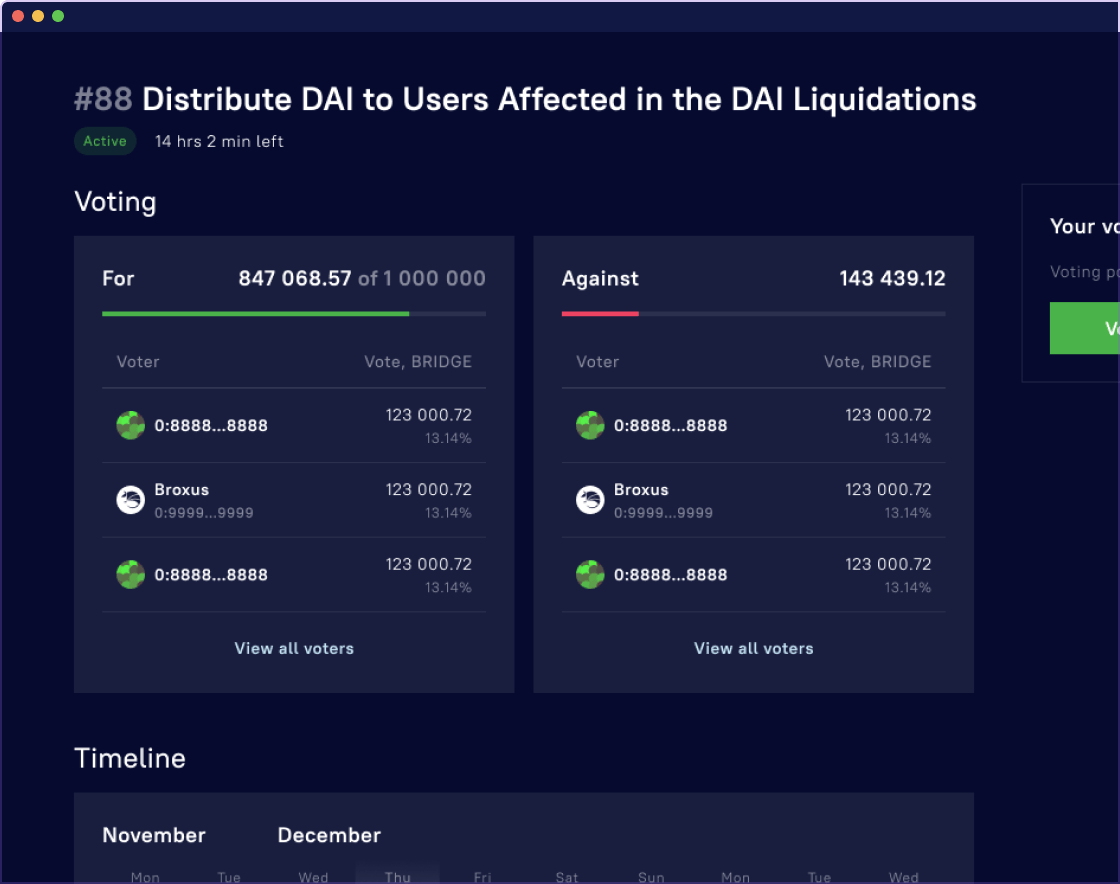 Transfer absolutely any token.
Even your own
... between different blockchains
The number of which is constantly increasing.
Ethereum
BNB Chain
Fantom
Opera
Polygon
Everscale
Avalanche
Milkomeda
Solana
Just 4 steps and you're all set
You might need to install them first in order to transfer liquidity

Select the route

Select a token and enter an amount

Transfer your tokens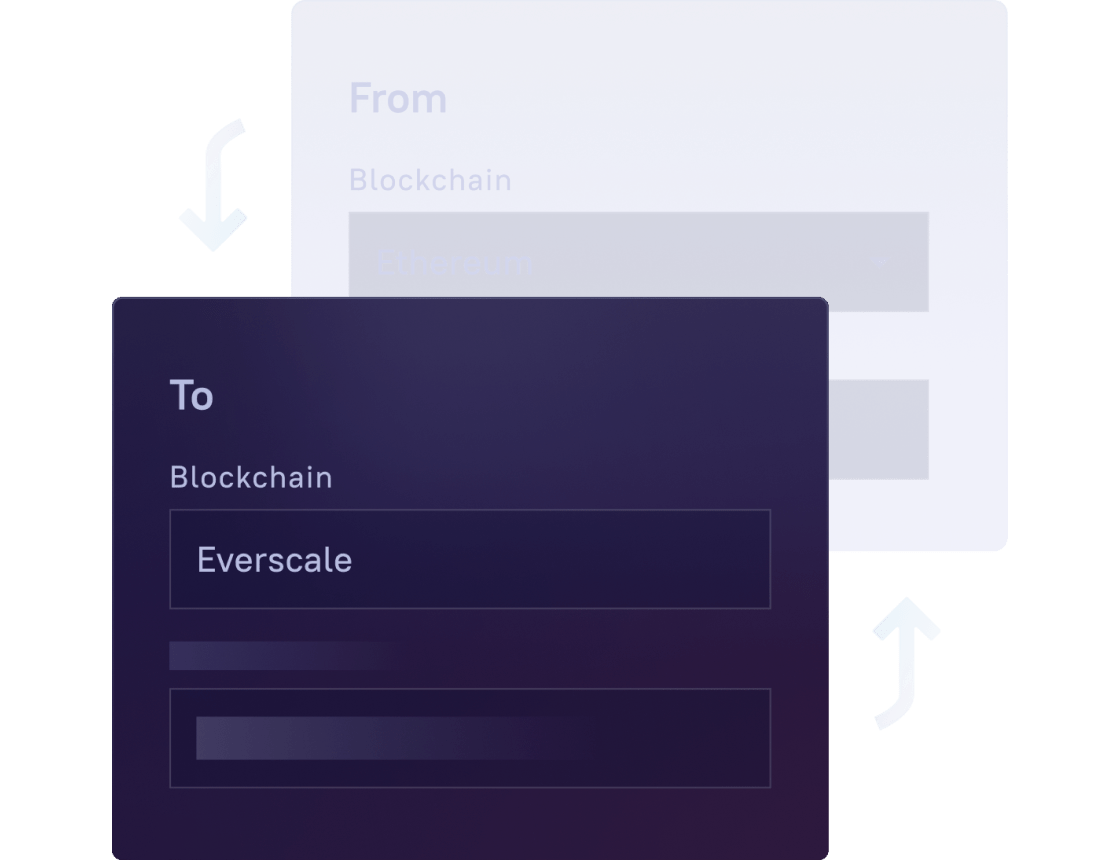 BRIDGE tokenomics
Staker
Earn on BRIDGE token staking
Dozens of stakeholders
$21m+ BRIDGE tokens locked in staking program
More than $500 000 distributed to initial and active users. And more is to be distributed
Relayer
Earn even more as a relayer
Participate in profit sharing as a major stakeholder
Impact Bridge governance via voting
Be a beneficiary of Everscale's growth
* You must have at least 100 000 BRIDGE tokens to become one.
Make your dApp truly cross-chain
Online auctions, predicition markets, games, oracles, NFT marketplaces - all kinds of dApps can benefit from using the DAO multi-blockchain Bridge.
Your project is on Everscale? Unlock the limitless opportunities of your EVER dApp with the support of popular ERC20 tokens.
Exchange information between blockchains

Seamless transitions between users

Unified balance sheets

DAO that works with all networks at once
We would be thrilled to get to know you!
FAQ
Everything you need to know about Octus Bridge.
What networks are supported by the Bridge?
The Bridge currently supports bidirectional transfers for the following networks: Ethereum, Polygon, BNB chain, Fantom Opera and Everscale.
How much does a transaction cost?
The cost of a transfer depends on the commissions of the networks with which you will interact during the transfer process.
Unfortunately, it is impossible to get rid of these fees completely, but we can guarantee that when interacting with the contracts of the Everscale network, the fees will be minimal. Given the current state of the market, the largest fees should be expected when interacting with the Ethereum network.
We recommend tracking the gas price on Etherscan in order to conduct transactions in the least costly periods of time: https://etherscan.io/gastracker
Why do I need EVER Wallet for a transfer between other networks?
Everscale is the network that the Bridge was built upon, so the EVER Wallet is needed in order to process gas payments on the Everscale network.
What is the credit gas option about?
You need a small amount of EVERs to release a transfer in Everscale. With the Credit gas option, a portion of your tokens will be auto exchanged to EVERs and sent to your EVER Wallet
I can't broadcast my transaction or proceed with a swap
You might need to deploy your wallet. Once you have EVERs on your wallet, you can press the Deploy button. Then select the type of wallet you wish to deploy and confirm the transaction.
What is an EVER?
EVER is the native token of the Everscale network. To transfer tokens via the Bridge, you need EVERs to pay for gas fees.
How to add tokens to display in my EVER Wallet?
By default when you open your wallet, only EVER will be visible.
Click on Select Assets
Click on the slider next to the assets you wish to display and save!
Where can I ask questions?
You can join the official Octus Bridge chat on Telegram, where not only Broxus official representatives will be happy to help you, but also friendly and active representatives of our wonderful community. There you can also find out about the latest Broxus and Everscale news.